European Antibiotic Awareness Day celebrated at the Extraordinary Ministerial Meeting of the SEE Health Network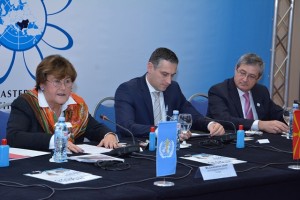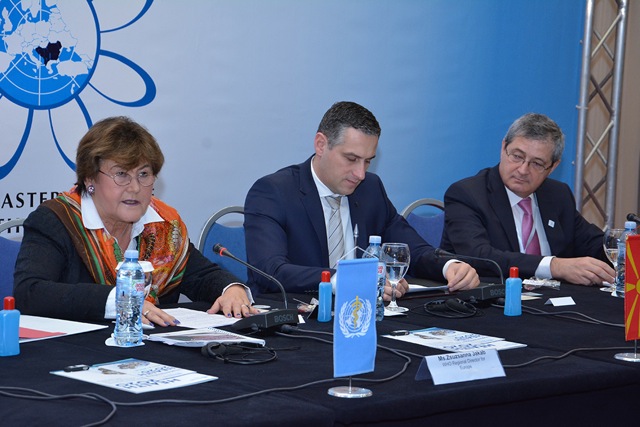 The European Antibiotic Awareness Day in Macedonia was celebrated for the seventh time this year, at the Extraordinary Ministerial Meeting of the SEE Health Network, held on November 18, 2014 in Skopje, within the Macedonian presidency of the South-Eastern Europe Health Network.
Addressing the ministers of health and high-level officials of health authorities of the SEEHN Member States, The Minister of Health, Mr Nikola Todorov and the WHO Regional Director for Europe Dr Zsuzsanna Jakab congratulated the EAAD by acknowledging the importance and necessity for further efforts in rational antibiotic use and fighting antimicrobial resistance.
Expressing gratitude to Dr Zsuzsanna Jakab, the founder of the EAAD during her leadership of the European Centre for Disease Prevention and Control (ECDC) in Stockholm, Sweden, for this excellent initiative, Mr Todorov emphasized that the SEE Health Network works on reverting negative trends in antimicrobial resistance through the SEEHN Regional Health Development Centre for Antimicrobial Resistance in Sofia, Bulgaria. Providing technical expertise and active collaboration in the field, the SEEHN contributes to relevant data collection and towards solving this global challenge in general.
Greeting the SEEHN Member States officials, Dr Jakab recognized the success of the established EAAD and its celebration as a pan-European initiative not only in the EU Member States but also in the EU candidate countries, and the countries of the former Soviet Union.
This year, the celebration of EAAD was preceded by a two-month long National campaign for rational use of antibiotics titled "Antibiotics are not food" that the competent authorities implemented in 10 cities in the country, with the support of the World Health Organization and the Government of the Kingdom of Belgium.
Since its establishment in 2008, EAAD has been celebrated in the country as a collaborative initiative among the Ministry of Health, the Institute for Public Health, the Institute of Microbiology and Parasitology at the Medical Faculty of Skopje, the research think-tank "Studiorum", and other academic and professional associations and organizations. More details on the past activities can be found at: http://studiorum.org.mk/EAAD2012/
Photo credit: Daniel Popadinovski, 2014.